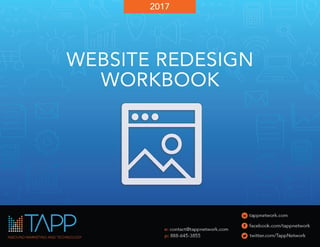 Whether you're working with us at Tapp Network, or taking a stab at a website on your own, having a plan and process in place will help ensure initial and ongoing success.
Use this workbook as a "cheat sheet" of sorts, to keep yourself and your team on track during a very important time for your organization. Broken down into 5 stages -
In this easy to follow workbook, learn about:
Benchmarking your current efforts
Planning your process and timeline
Designing / Redesigning the website look and feel
Integrating with your content management system and any third party tools
Executing and going live
Fill in the form below and get your nonprofit website on the path to continued success!